With a passion to serve the society, Mina has been working as a Female Community Health Volunteer (FCHV) since 2003. As a dedicated volunteer, she is continuously engaged to provide promotional health activities in local community. Raising community awareness on various health components is one of her major duties. Besides that, she also provides other regular services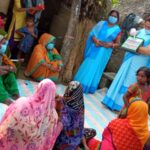 i.e. counseling, support in Outreach Clinics, vitamin A and albendazole distribution, distribution of FP commodities, treatment of minor ailments like diarrhea, referral service etc. According to her, Maternal, Neonatal and Child Health is one of the major areas where all stakeholder should focus their interventions. She is also concerned to ensure that all women and children have received available service in local Health Post.
On November 28, 2019, she was invited for 3days Basic CB-IMNCI Training at Katkuiya Health Post and the training was organized with the support of IMNCH project. During the training she got the opportunity to learn about CB-IMNCI services including essential Newborn care, Household treatment of ARI and Diarrhea and, Danger signs of Newborn and Children.
The Improvement of Neonatal and Child Health (IMNCH) project funded by Ministry of Foreign Affairs, Japan and Implemented by ADRA/ENRUDEC is currently being implemented in Banke district with ENRUDEC as the implementing partner. This project aims to improve the newborn and child health in project area. IMNCH project has been supporting to raise health awareness in communities through FCHVs and radio message airings.
Mina from Katkuiya Health Post can now confidently deliver health messages in Health Mothers Group (HMG) meetings. Earlier, she couldn't speak confidently, let alone conduct meetings and teach in a group. Mina shares, "Earlier, I tried to conduct health education sessions during HMG meetings, but I wasn't good at it and felt very uncomfortable during these sessions. But now I feel confident and capable.
Beside this, I able to fill the Ward Register confidently and sent data monthly in Katkuiya Health Post. Now the FCHV as well Health Mothers Group (HMG) refer the cases of General Danger Sign (GDS) of PSBI LBI, Pneumonia, Diarrhoea, Measles etc. to the health post. With the major support of Health Mothers Group (HMG) we were recorded maximum cases of Moderate Acute Malnutrition (MAM) and refer Severe Acute Malnutrition (SAM) to the higher OTC center (Out –patient therapeutic care for further management. Many mothers have also referred pregnant women to health facilities for proper services. Women in this village of Katkuiya are united to work and share their knowledge and skills with each other in regular monthly meetings.
All the credit for this change goes to the CB-IMNCI training that I received where we had an opportunity to learn about safe motherhood, child health issues and also the important role of a FCHV to uplift the health status of mother and child in local communities."
We were so delighted that, ADRA's partner ENRUDEC works in the IMNCH project in Banke and this year 350 FCHVs of 24 health facilities were trained on CB-IMNCI. She feels pleased to see mothers discuss, learn and ask questions about their health and other health-related issues facing the community.
And at the same time people at community are also happy that their FCHV is actively engaged to raise awareness in neonatal and child health. People are also becoming more curious to know about child health concerns and available neonatal and child health services in local health facility.
Mina shares her thankfulness for the support that IMNCH project has provided to build the capacity of FCHV in CB-IMNCI, which enabled all FCHVs to work forward to improve the status of neonatal and child health in rural communities.