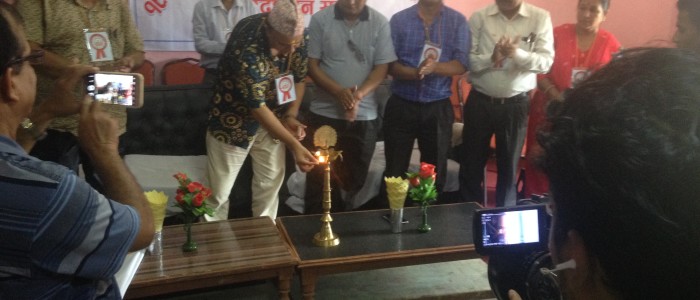 LOCAL LEVEL PARTICIPATORY PLANNING ORIENTATION TO SM

---
The orientation to SM on Local Level Planning Process (LLPP) has been successfully accomplished on 29th July, 2015 at ENRUDEC Office in the presence of all the SMs both ENRUDEC and LGCEP of four working VDCs namely; Mahadevpuri, Kachanapur, Khaskushma and Binauna. In the Orientation all the VDC secretary of working VDCs were also actively participated. The orientation was facilitated by Governance Field Coordinator Mr. Lok Bahadur Thapa from Sajhedari Bikaas.
The LLPP orientation to SM was conducted to:
To revive the SM on LLPP before going to ward level LLPP.
Make the clear vision and understanding among the SM and VDC secretaries about LLPP and reduce the weakness which were occurred during previous Planning Process.
The orientation was started from 10 am at the ENRUEC Office hall facilitated by Lok bahadur Thapa from SB. 12 participants including VDC Secretaries and both LGCDP and ENRUDEC had actively took part in the orientation.
At first the VDC secretaries shared their previous experiences while planning process especially at the time of need identification from settlement level. And also shared the expectation from SM while Planning Process from settlement level. And the other sections were hold by the facilitator Lok Bahadur Thapa. The section was mainly focused on 8 steeps of planning process among 14 steep planning process. The matters were oriented with full of enjoy fully and interactively.
According to the VDC secretaries and SMs, such kinds of jointly orientation is very fruitful for further working because it makes the common understand and practices sharing among each other's. Indramani Dhakal of Binauna VDC secretary said," At first we would like to thank ENRUDEC for giving this platform for sharing our practices among we staffs. Really it is necessary to make common understanding about the system. Due to the lake of knowledge of system must of the VDCs are being unsuccessful on MCPM. To make safe from such dangerous situation, ENRUDEC is giving its high inputs through Local Governance Program under Sajhedari Bikaas. So once again thanks for this orientation."